A healthy smoothie recipe with frozen blackberries, organic peanut butter, vanilla protein powder, and healthy fats to keep you full longer without sacrificing taste!
It's been over two years since I last posted a smoothie recipe. Sheesh! For awhile there my blender was broken, then I fell into a smoothie rut. Too many yogurt-based green smoothies with the same ol' ingredients.
Since then, I've learned some important lessons about smoothie making. You can't just throw a bunch of stuff in the blender and expect it to taste good or fill
you up (especially when greens are involved).
Smoothie Tip #1: Don't Leave Out the Fat & Protein
This is the big one. If you truly want to feel satisfied after drinking a smoothie, it needs to have plenty of healthy fat and protein!
That was my biggest problem. The only healthy fat in my smoothies was grass-fed yogurt. It's a good source of protein but doesn't pack the same punch as say, avocado or coconut oil in terms of satiation.
Want to know why healthy fats are important?
They make your food taste good!

They're necessary for absorbing fat-soluble vitamins A, D, E & K from your foods (like leafy greens).

They help keep you satiated, which leaves you feeling full and nourished after a meal, so you're not hungry an hour later.
And let's get one thing out of the way (I should really write a separate post about this) fat does not make you fat. In fact, it has the opposite effect when you're consuming it from quality sources.
When I switched to eating all full-fat foods and making sure I had a bit of coconut oil, genuine extra virgin olive oil, pastured butter, or avocado (just to name a few) at every meal, I suddenly felt full and nourished. I snacked less and actually dropped a pant size with no extra effort on my part!
My favorite way to add extra fat to my smoothies right now is with 1/4-1/2 of an avocado. You can't taste the avocado at all and it gives the smoothie a rich creaminess. And to bump up the protein (along with protein powder), I add in a tablespoon of whatever nut butter I have on hand.
Smoothie Tip #2: Use Naturally Sweeter Fruits
I also discovered that by adding half an apple to every smoothie, it doesn't need any additional sweetener (like maple syrup or raw honey). I was so used to using berries and bananas in my smoothies that I hadn't even considered apples.
I learned this tip from watching a smoothie recipe video from
The Betty Rocker
.
(She's awesome, you should check her out!)
As much as I love maple syrup & raw honey in my recipes, I'm much happier to sweeten my smoothies using a whole fruit so I can benefit from all the vitamins and nutrients.
These two techniques (using apples and adding more fat) have vastly improved my smoothie recipes and made me fall in love with them all over again. My current favorite is the blackberry vanilla peanut butter protein smoothie I'm sharing today. I've made it twice in the past week for an afternoon snack, but I have a feeling it'd work even better for dessert!
Healthy Blackberry Peanut Butter Protein Smoothie
A healthy smoothie recipe with frozen blackberries, organic peanut butter, vanilla protein powder, and healthy fats to keep you full longer without sacrificing taste!
Serves: 1
Ingredients
1/2 cup of frozen blackberries
1/2 an apple, cored
1/4 of an avocado
2 scoops of vanilla protein powder* (I used Young Living's Vanilla Spice Pure Protein Complete + Nutiva Hemp Protein)
1 tablespoon of organic peanut butter (or whatever nut butter you prefer)
1 tablespoon of high-quality grass-fed collagen powder (optional)
2 tablespoons of full-fat canned coconut milk OR homemade coconut milk (optional - for extra creaminess)
Purified water, almond milk, OR milk (I used water - add enough to reach your desired smoothie consistency)
Ice (if you like your smoothies cold)
*If you only have plain protein powder and want a vanilla flavor in your smoothie, try adding 1-3 teaspoons of homemade vanilla extract, vanilla bean powder, or even a tidbit of paste scraped directly out of a fresh vanilla bean pod instead.
For Garnish (optional)
Ground cinnamon
Shredded unsweetened coconut
Recommended Equipment
Blender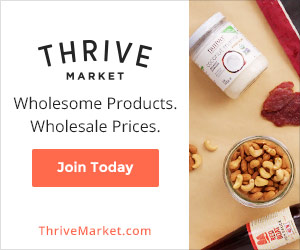 Directions
Combine all ingredients in a blender and add
purified
water (or nut/dairy milk) at a time until you reach your desired consistency. Some people like thicker smoothies, other like them with more liquid. You can also add ice to make it colder, and I recommend doing this if none of your fruit is frozen.
Notes & Tips
Eating this smoothie for dessert? Toss in some homemade chocolate syrup or cacao powder to make it extra decadent!
Bonus:

If you want to order my favorite collagen that I linked to above, I have a coupon code just for my readers! Enter RISING10 at checkout for 10% off your total. :)
Want to detox while drinking delicious smoothies?
If you're looking for an easy and short whole foods-based cleanse that will nourish your body while removing impurities, I highly recommend
the
7 Day Diet Plan For Weight Loss and Improved Health
by Katherine Kyle of Green Thickies.

All of her smoothie recipes contain an easy to find & inexpensive ingredient that'll help keep you full while you give your body a break from overprocessed foods!
Click here to learn more about the 7 Day Diet Plan.
I'd like to hear from YOU!
What are your best tips for making smoothies that keep you feeling full and satisfied?
P.S. Keep Reading! More Recipe From The Rising Spoon: